Embarking on its first deployment in Wiltshire on 18 Dec 19 along with newly appointed Outreach Project Officer Sarah Welch, the Forces Connect South West mobile veterans outreach service was a resounding success.
On a crisp, bright day amongst the Christmas shoppers, a constant flow of veterans, families and members of the public stopped to find out about the Armed Forces Covenant.  Accompanied by staff and volunteers from Salisbury Medical Practice, the Defence Medical Welfare Service, SSAFA and members of the Salisbury Armed Forces & Veterans Breakfast Club, for some veterans, this provided the perfect opportunity to seek much needed assistance with a variety of life affecting issues. Fifty enquiries and several requests resulted in a number of referrals being made which are now being actively tracked to a satisfactory outcome by the outreach team.
David Wood the Project Manager said "The outreach service is part of a wider local authority project that is raising awareness of the Armed Forces Covenant and being able to engage with the whole community in this way helps in achieving that, whilst concurrently providing direct assistance to those that need it. Working in partnership with other support organisations ensures that the right support can be offered."
Mayor John Walsh of Salisbury City Council, himself a veteran visited and said, "I was delighted to visit and see in action the latest initiative to support the veterans community in the South West. I would strongly suggest to all my fellow veterans that you need to invite this mobile service to visit your City, town or village. It has much to offer the veteran community."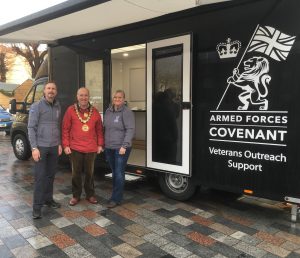 Sarah Welch, the new Outreach Project Officer who will be developing a programme of deployments across the region said, "This has been an excellent day and a clear demonstration of the need for our outreach service. With this capability, we can increase the options available to veterans who need to access support. As our programme develops, we hope to identify suitable locations in the more remote areas of the region, providing a much-needed focal point for our Armed Forces Community. It is only right that we make every effort to develop more innovative ways of reaching and providing support to our veterans in need".
If you want to know more about the work of Forces Connect South West and our new Veterans Outreach Support service, look us up at www.forcesconnectsouthwest.org.uk and more importantly pass it on.
#ArmedForcesCovenant #Veteranssupport   #militarycommunity #veteransgateway