With our good fortune continuing to hold, Wednesday 26th February once again surprised us with an unexpected break from howling winds and horizontal rain, as we awoke to glorious sunshine in Cornwall.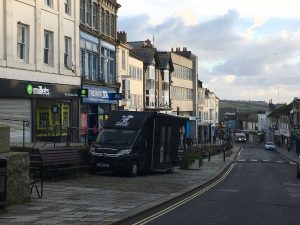 Against the backdrop of bright weather, calling seagulls and the unmistakeable aroma of homemade pasties, the outreach team landed themselves next to the Humphry Davy Statue on Market Jew Street, a prime location which attracted attention from the general public as well as a steady stream of veterans from all three services with questions and requests for assistance across a spectrum of issues including pensions, employment, connection and isolation, housing and veterans ID cards.
We w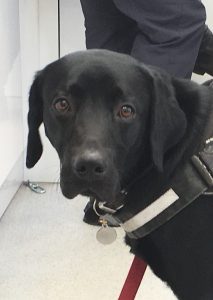 ere delighted to be joined on the day by the Armed Forces Covenant Officer for Cornwall Council, Philippa Dowling and Jeff Spencer of the Veterans Advisory and Pensions Committee as well as a team of advisors available on the day by phone to deal with specific queries on issues such as housing and benefits. Having subject matter expertise and Local Authority representation on the day aided in the immediate resolution of a variety of issues…….and we mustn't forget the invaluable contribution made by Gibson the dog, who provided comfort, affection and a warm welcome to visiting veterans and their families.
Cornwall Council's Councillor Mike Eathorne Gibbons welcomed the event. "We have just over three thousand serving personnel stationed in Cornwall and about 39,000 veterans living in our area. We owe a huge debt of gratitude to these individuals and know that military life brings with it particular challenges. We want to ensure that the military community know what support is available to them and where they can turn for help when they need it. The Veterans Outreach Service provides a valuable direct link to our local communities and I was delighted to welcome its second visit to Cornwall."
The outreach event was preceded by our attendance at a regional Army Engagement Group presentation the previous night, providing local businesses and community representatives with an update on Army activity and its contributions to society. As such, we were fortunate to be visited by Commander Headquarters South West, Colonel Neville Holmes MBE, who said "The outreach service is a superb initiative developed by local authorities working in partnership across the South West to raise awareness o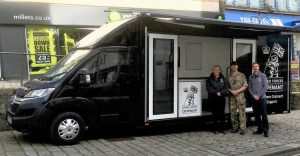 f the Armed Forces Covenant and directly help those who most need it. The team have boundless energy and a wealth of contacts and I encourage anybody seeking help or advice to pop in and say hello when they are in their neighbourhood."