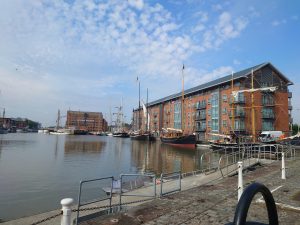 After an early start, the Outreach Vehicle arrived in front of the Gloucester Soldiers Museum in the heart of Gloucester keys. Set up complete and a coffee down range, the wait for the crowds began.  It wasn't long before the outreach vehicle was staffed by a Gloucester Councillor, a Cheltenham Councillor, 2 NHS service personnel ambassador and a Gloucester Council Armed Forces Covenant ambassador, in addition to the Outreach Project Officer, Andy Hadrick.
The steady flow of people attending swelled to around 30,000, all enjoying the sunshine.  The outreach vehicle being placed strategically within the route from street food, to live bands, to the main display of the Tall Ships kept everyone very busy. Each conversation was different, and often personal.  The advice and support delivered on the day ranged from housing, education, medical, mental health, and approved support.
Each person brought something to the table and often a listening ear was all that was needed, with appropriate hand-outs and leaflets.  Overall, over 120 conversations took place with 25 referrals to other organisations, this was a highly worthwhile and successful event.