Wiltshire Council has reaffirmed its commitment to the Armed Forces communities by signing the Wiltshire Council Armed Forces Covenant supported by senior military and civilian leaders.  The reaffirmation of the covenant recognises the service of people in the Armed Forces and commits those signing the covenant to do all they can to ensure Service Personnel are treated fairly and not disadvantaged in thier day to day lives.
Cllr Clewer said: "We have a long and proud association with the military in Wiltshire. We recognise the enormous benefits both economic and culturally to having a military presence in this county. This Armed Forces Covenant underlines this important relationship and the mutual benefits of working together. Wiltshire Council already has in place a range of measures to ensure we support our Armed Forces and today was an opportunity to commit again with our partners to ensuring the military that serve this country so well have a welcome and supportive home here in Wiltshire."
Colonel Gary McDade, Commander South West said: "The Armed Forces, and the Army in particular, are part of the fabric of Wiltshire, therefore I'm delighted that Wiltshire Council has re-affirmed its commitment to the Forces community by signing the covenant today.  The covenant encourages serving personnel, their families, and veterans to be active members of the local society and there are few counties where the military community is as large or well-established as in Wiltshire.  In re-signing the covenant today, Wiltshire Council's commitment is clear, as is their understanding and recognition of the value in supporting our Armed Forces. We are extremely grateful for the council's continued support."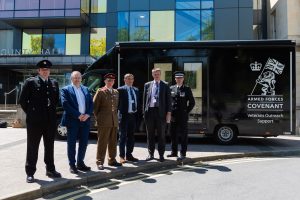 Photo shows:  Armed Forces Covenant Signing Group:  Darren Langdown, Area Manager for Dorset and Wiltshire Fire and Rescue, Paul Moorby, Chair of the Swindon and Wiltshire Local Enterprise Partnership, Col Gary McDade, Commander South West, Wiltshire Police and Crime Commissioner Philip Wilkinson, Cllr Richard Clewer, Leader of Wiltshire Council and Cabinet Member for Military Civilian Integration and Chief Constable Kier Pritchard.
Details of the full press release can be found here: https://www.wiltshire.gov.uk/news/wiltshire-pledges-commitment-to-working-together-with-its-armed-forces